lake_wrangler

wrote:

↑

Thu Oct 08, 2020 8:49 pm

I came home tonight, to find out that both mouse traps have been licked clean of peanut butter,

yet the traps themselves are still untriggered!
Sounds as if you have an infestation of Mus ornithoptris (the North American hovering mouse).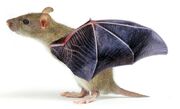 One thing you could try, is tying a couple of turns of twine around the trigger/bait platform, before baiting. If the mice chew on (or tug on) the twine to try to get to the bait caught under it, they'll be more likely to trigger the trap. Solid bait tied to the trigger has a similar benefit.
A friend of mine taught me the best way (he says) to make a standard Victor (or similar) rat trap more effective. First thing is to screw it down to a piece of 2x4 - this keeps the trap from flipping when it triggers. Second, put the trap in a narrow box (or wrap metal netting around it) so that there's only one direction that the rat can approach from... the baited end, where the bar will come crashing down.
Both of these tricks make it much harder for a rat to access the trap from a direction where it won't be hit if the trap triggers.