Moderators: Bookworm, starkruzr, MrFireDragon, PrettyPrincess, Wapsi
C8 H10 N4 O
(
something
) is all I can make out.
Carbon
Hydrogen
Nitrogen
Oxygen
Sounds... 'energetic'.
https://www.ebay.com/itm/Wapsi-Square-o ... 7675.l2557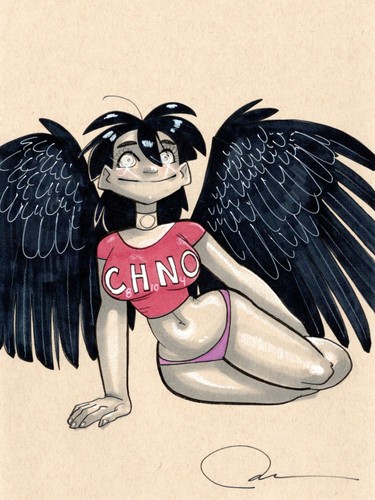 ---
If it's C8H10N4O2, it would be caffeine, which would make sense.

My first guess was nitroglycerine, but that turns out to have a rather different composition.
---
Yeah but, I first searched and was getting hits on .GOV



reference sites; not the kind of search history I wanted linked to Nitro...

---
Posts: 5829
Joined: Wed Aug 01, 2012 7:58 am
Location: The Valley of the Sun, Arizona
Contact:
If you have to think about it, you're not paying attention... Given that this is Tina, of course, I can understand.

She has a few other pinups with the caffeine molecule on it, to which I don't have links at the present time.
"Character is what you are in the dark." - D.L. Moody
"You should never run from the voices in your head. That's how you give them power." - Jin
---
"paying attention...", pfft.

Slightly harder to make out vs an Eight-ball tshirt or Atsali's AC/DC.
Besides, I was distracted. By tha wings...
---
Posts: 2116
Joined: Fri Jul 12, 2013 10:47 pm
It's a proportional rather than structural nomenclature, so while it
could
be caffeine, it could also be dozens of different molecules. Caffeine does indeed make the most sense, though. Except. . .
If you keep the same atoms but rearrange them in a chain rather than in a ring, you can get a chemical that's known as a super-mutagen. Which means exactly what it sounds like. Just what do Tina and Becky put into all of those tasty goodies? Maybe this is why there are so many paranormal critters running around Minneapolis?
---
[Verse 2]
Spoke to me
I can't believe it, but she spoke to me
And if she hurts me
I'll take it all with open arms you see (you think I won't?)
Because like a track under a subway train
She could roll all over me and I'd still be the same
This is 'Walking into Mucho Mocha, meeting the strange swirly-eyed Barista, and upon leaving- the sunshine beams down out of the clouds' soundtrack music.
She Spoke To me, Extended version, YouTube
---